Luxury Suites on the Santorini island
Santorini Luxury Suites offer accommodation, but our mind is set on sharing our experience on this beautiful island to make your time as fulfilling as possible. We will extend your luxury experience with us to the whole island. 
Preferably before your arrival, we would like to know what your dream vacation looks like. Is it wine, or food, or fish, or veggie or hiking, or biking, or water-sports or scuba or clubs or archaeology or peace & quiet or anything else that you have heard or been told or that we can recommend.. 
Your Concierge is on always the other side of the phone, and will quickly respond to your questions. We will make your reservation at the beach or bar on the beach, or restaurant on the beach, or night club, or dining experience or wine tasting tour or daily excursion or activity – everything from wind surfing and canoeing to luxury beach lounging, to fishing or scuba diving, to sailing, motor boating or helicoptering..
Or we will recommend that you stay home one day and we have a chef prepare a Grand dinner of your choice, while you dip in the Jacuzzi at the best spots on the island.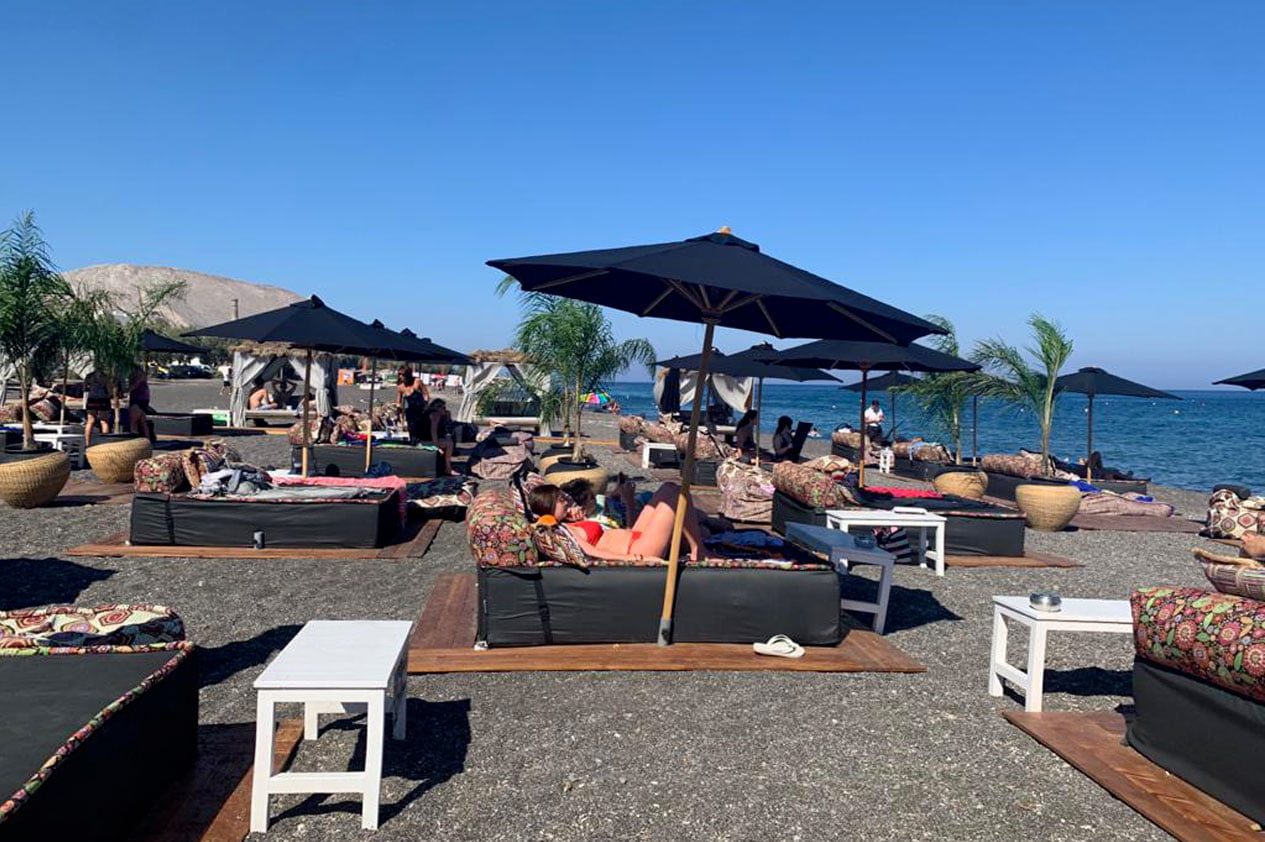 Santorini is notorious for its black sand & volcanic beaches, but you will also find a red beach, a white beach, a brown sandy beach, a rocky beach, all of them with clear cool water all around!  
Apart from the morphology though which is impressive everywhere you go, the service offered everywhere is impeccable and the quality high. 
Beach bars and restaurants of different flavor can be found in virtually all places of the island, and you will find your own favorite spot for certain. 
From lounge music and creative cuisine, to a traditional fish tavern setting, to a beat and party time place with creative quality cocktails and snacks, to wine and side dishes on the beach. We will tell you what we know and you can choose where your mood will take you.
Food in Santorini is an especially developed exploration task. The choices are numerous and range  from high end creative global cuisine places offering different tastes with a twist – by a decorated chef, to the traditional meat or fish taverns, to the "lets catch a souvlaki in the square and go dancing" places.
Or we can set up a romantic dinner at home with a private Chef at your chosen house.
Despite your daily mood, there is one thing that will always be present in Santorini evenings.. the Sea and the Stars anywhere you look will be at your feet or within your gaze.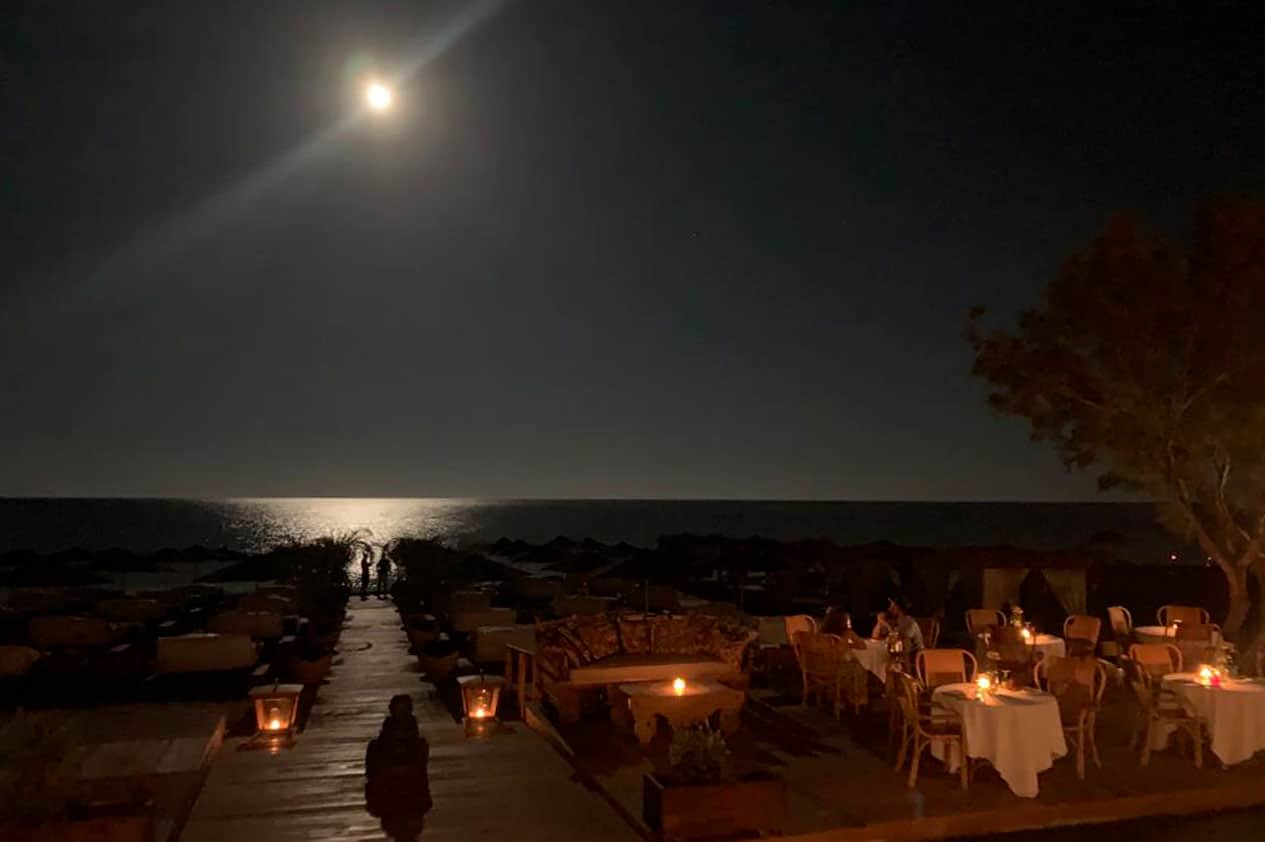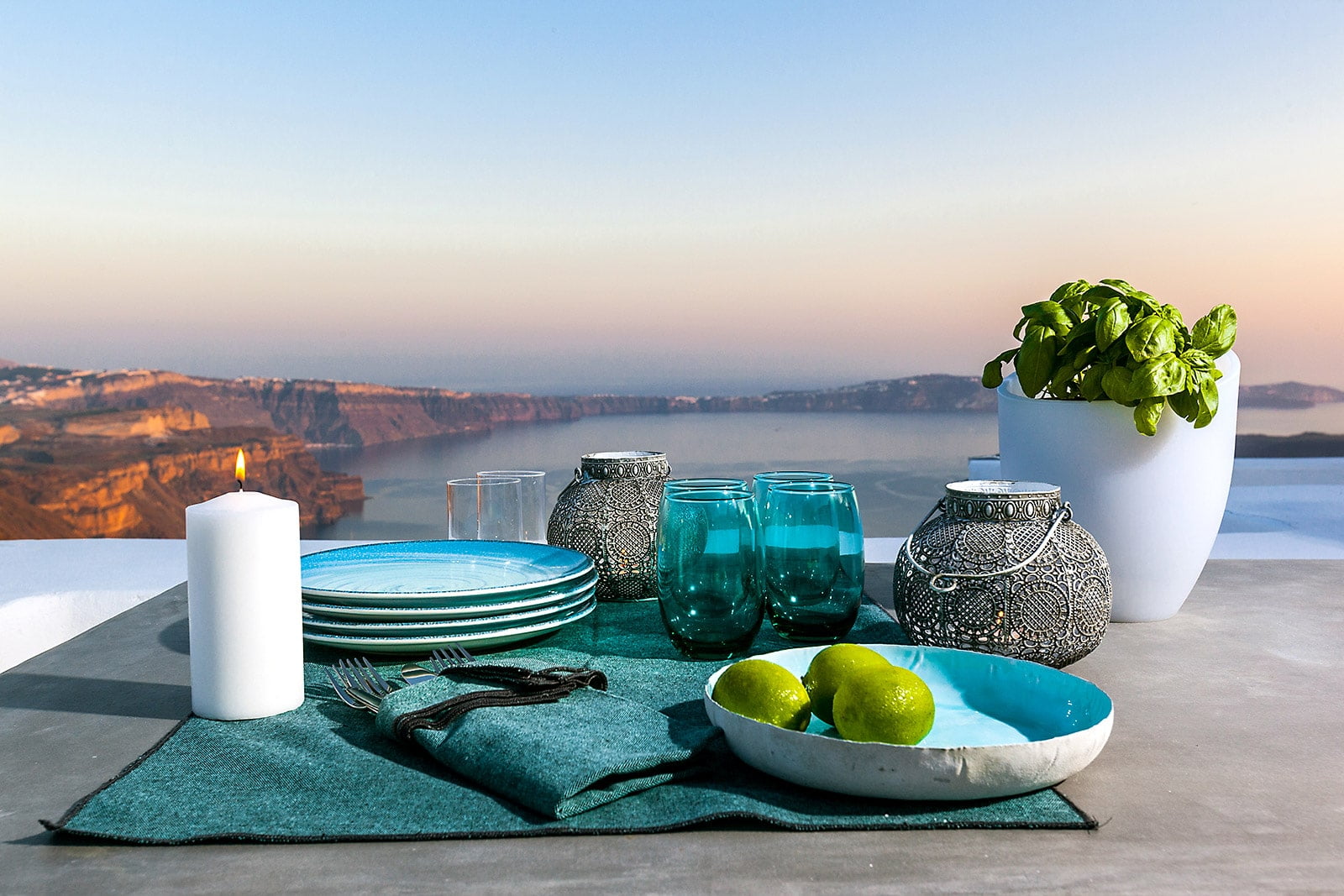 Your options on excursions are again too many to get done in one trip. 
They can be adventurous, culturally rich, physically demanding, tastefully educational, or combine some or all of the above. 
Sail in the Caldera on a Catamaran or an old Pirate boat and watch the sunset, hike from Imerovigli to Oia having the sea on both sides of your path, visit the archeological site of Akrotiri and Ancient Thira and have a guide explain the miraculous ways of the people 3,5 millennia back (in 1628 BC), attend a wine tasting tour with the particular local wines from vines grown on volcanic ground, go fishing with a local fisherman, go kayaking and watch the sunset mid sea, go windsurfing, scuba diving in the Caldera where the fish will gather around you, water-skiing, horse back riding on the beach, rock climbing.. you name it, you can do it.
CONTACT US FOR MORE INFORMATION
Email: info@luxurysuitesantorini.com